GRO - Basic rules optimization control training
The GRO training provides participants with a tool to effectively carry out tuning of control circuits, both based on work effort and performance improvement. The course provides a practical overview from applied theory to actual implementation.
Background
Rule tuning is a craft and an art. Just like a piano, an entire industry sounds false if one string is out of tune. All facilities have a functioning organization for equipment maintenance. Very few have a functioning organization or working method to maintain the thousands of regulators that lay the foundation for regulation.
With properly tuned regulators, there are conditions for running the plant closer to maximum capacity without compromising on availability. Well-functioning basic regulation is also a prerequisite for reducing quality variations and for succeeding with superior regulations.
Arrangement
The GRO course teaches the lambda method according to SSG-5253 which is applicable to the majority of regulators in the industry. Course participants learn to tune self-regulating and integrating circuits. The course consists of both theory and practice. The focus is on practical guidance, where the participants, together with our experts, learn to tune your facility. Benefit is obtained directly from the first practical course opportunity. All trimming is stored in Optimation's tool for trimming and maintenance, DUR, which makes follow-up easy.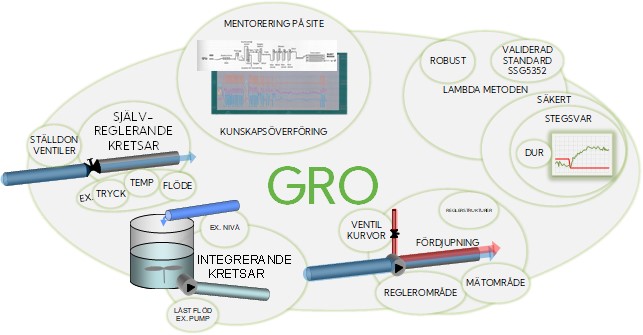 Adaptation
Optimation conducts several GRO courses annually and we have a great habit of adapting the training package to your organization. Below are the various training packages we offer in addition to the regular GRO course:
In its basic version, GRO includes 16 hours of theory and 32 hours of mentoring
GRO intensive, a shorter one during a coherent period (12 hours of theory and 20 hours mentoring)
GRO virtual, with theory and exercises online
GRO advanced, with in-depth theory and advanced regulation concepts
GRO mentoring program, continued mentoring after completed GRO course.
Continuation
GRO teaches your organization an iterative way of working and gives you the depth to turn and twist problems. We are close to our customers and after completing the course there is the opportunity to receive continued support and help from experts at Optimation. During our mentoring program, your organization receives support and room to continue tuning on its own.
A small selection of customers who have gone through GRO: