3DPM
Our 3DPM system extracts valuable data such as particle size distribution on the fly from fast moving conveyor belts without disrupting the production. After years of research, in collaboration with Luleå University in Sweden and Innovative Machine Vision in Australia, 3DPM entered the market in 2008. Today we have numerous pleased customers using our system all over the world. The R&D has never stopped, and we believe we still have the best product on the market if you are searching for a reliable particle measurement system for control of your process.
More
3DPM stands for 3-dimensional Particle Measurement and is a measurement system consisting of high-performance hardware for 3D scanning of bulk material and state of the art software for analysis of individual particles passing on a conveyor belt. Reliable particle size distribution classification is demanded by our customers for instant crusher and grinding mill control, increased blast furnace effectiveness, process optimization, or simply to increase process knowledge.
Our 3DPM system also reveals other parameters like particle shape, bulk volume flow and optional anomalies detection, such as boulders or rock bolts. Some examples of advanced and essential features are high quality fines detection and detection of partially overlapped particles.
With successful measuring of a large variety of materials such as coke, limestone, metal ore and agglomerated materials, there is confidence that 3DPM will produce high quality results in your installation.
The hardware is designed for rough environments with IP65 classification and requires very low maintenance even when running 24/7.
Each system is optimized regarding hardware and software to best fit each individual installation site and customer preference. A few examples include OPC communication, heating or cooling and dust prevention.
The system is compliant with CE according to directive 2006/42/EG, Annex 2B.
For additional information about 3DPM please read our Technical details.
Technical details
The inner algorithms of 3DPM are of course our secret, but it is no secret what is needed by a vison-based particle measurement system in general to bring reliable data 24-7 in harsh conditions.
First of all, you need to use 3D (3-dimensional) based hardware. Among available 3D technologies, laser camera triangulation brings the best 3D performance for industrial conveyor belt applications. By laser camera triangulation we can measure sizes directly without guessing as you need with a 2D system. Normal variations in the process flow like material bed height, moisture, and colour variations is no problem since suitable hardware makes 3DPM avoid simple mistakes such as perspective distortion.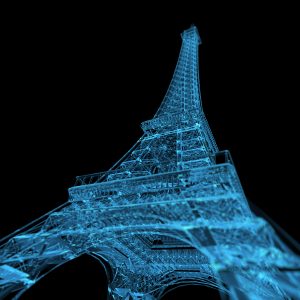 Other disturbance influences such as vibration effects and dust in the air are cut down to a minimum simply by choosing a suitable hardware. In most industry cases, laser camera triangulation is preferred since it only have to focus on a laser line reflection.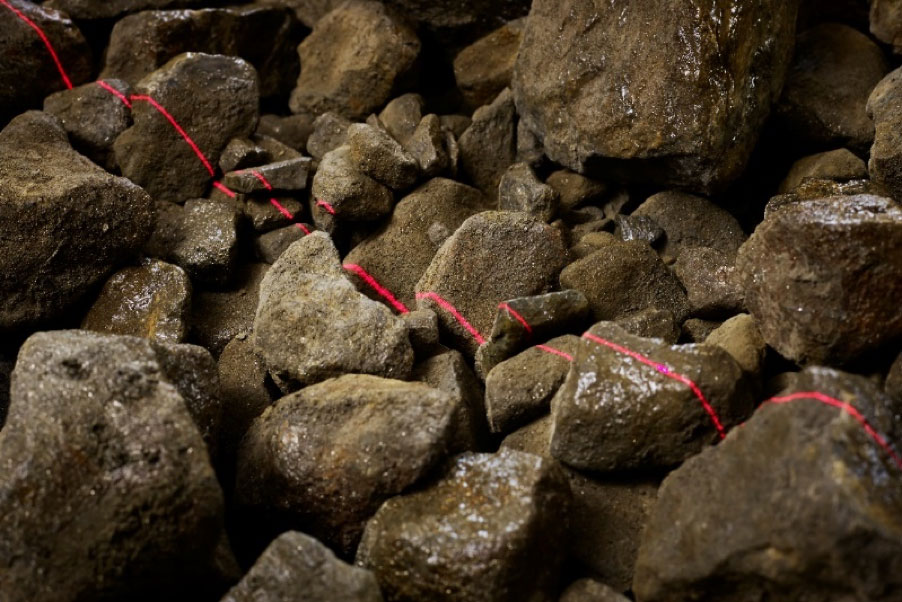 Laser line reflection (slow-motion)
Multiple laser lines are collected at regular intervals as the material passes, creating a complete 3D height map of the bulk.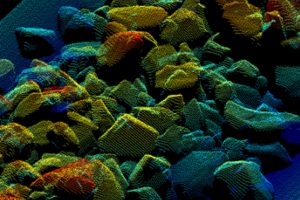 With suitable hardware you can watch your data in powerful 3D format instead of guessing from a 2D (photo) image. Below is an example on how 3D brings your particle data meaning since it builds a 3D map with heights over the sampled material. This technique does not only present the material nicely for a human eye, but it is also essential for robust particle delineation.
3D presentation of material surface
• Second of all you need highly developed algorithms to identify uncovered particles from the 3D data. Partly covered objects need to be excluded otherwise partly covered objects will be classified to small (like tip of an iceberg) and destroy your analysis.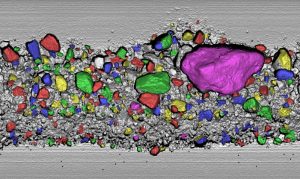 • Finally, you need to identify areas of fines since in most process industry small fractions tend to be a process disturbance.
3DPM® covers all the above demands and produces valuable data 24-7 at our customer installations.
3DPM available functionality
Particle size distribution (PSD)
Particle shape
Bulk volume flow
Bulk density (if belt scale signal is available)
Anomaly detections, such as boulders and rock bolts.
Belt load, cross direction centre of gravity
Dust prevention
Cooling
Heating
3DPM Brochure