He is a fixer
Machines, engines and all kinds of things – August Andersson has done most things. Although the work on Optimation is mainly about simulating different processes, mechanization is never far away in the mind. The simulation program gives associations to childhood's favorite computer game Mulle Meck builds cars.
– I can hear Lennart Jähkel's voice say "what a nice car", he laughs.
The small town of Borensberg is, in addition to one of the coziest places along the Göta Canal, also August's birthplace. Here in the heart of Östergötland, he grew up in an idyllic residential area with mother, father and two younger brothers, but also spent a lot of time with his grandparents who had agriculture with grain cultivation. On the farm he got to be involved in everything from sowing and harvesting to maintenance with the big agricultural machines. Therefore, it was perhaps not surprising that the choice fell on the nature management program when it came time to choose high school education.
– I felt that I was more interested in practical professions than theoretical ones. The construction and vehicle program was also on the agenda, but I chose agriculture because there you have to do a little of everything possible, says August.
An interest in technology is emerging
The high school was located on a functional farm with animals and farming. Of course, the school had all the courses that gave basic eligibility, but the program also included a lot of practical work. The students got to take passes in the barn, be part of the agriculture and learn to make machines in the workshop. But even when August was not at school, it became very busy with machines.
– My friends and I did a lot of repair and maintenance in our teens and so we built A-tractors. Nowadays, any car can be strangled to become an A-tractor, but at that time we had to physically cut the cars to make a small cab and a flatbed. I built two, one of a Volvo 740 and another of a Nissan KingCab, he says.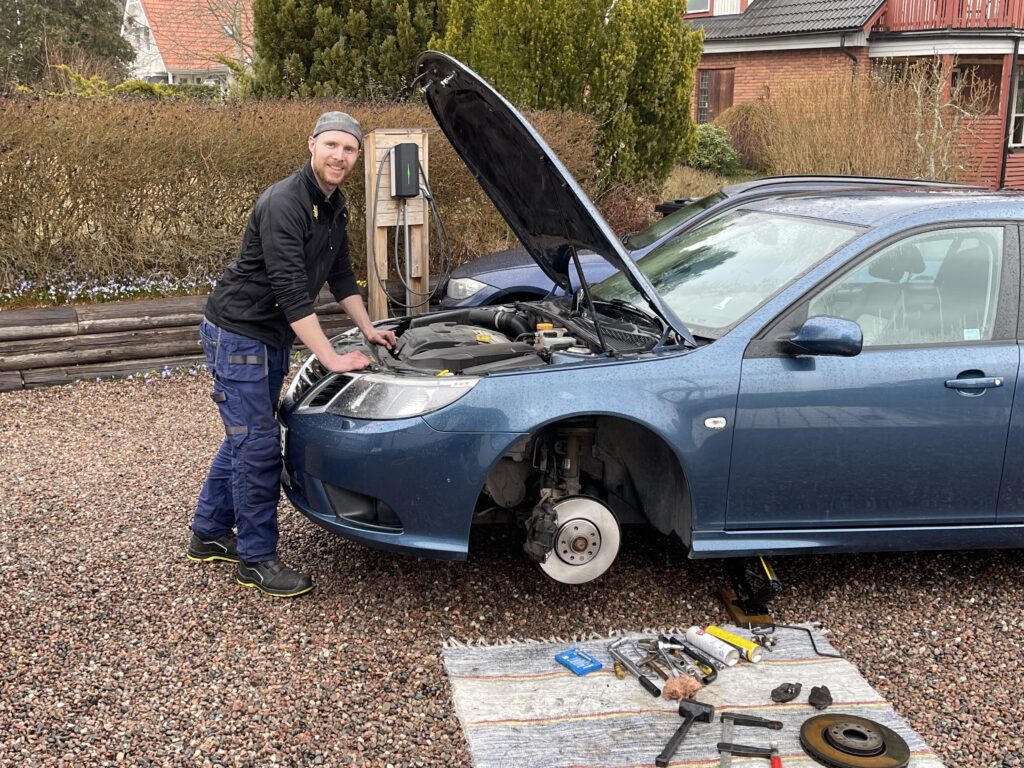 After high school, August was tired of school and wanted to get started and earn his own money. His first job was as a farmhand on a plant farm. It was later expanded with an extra job in the construction industry.
– The construction company worked a lot with farmers, so it was often about building machine halls or grain pockets. I jumped in and worked with agriculture during the high season and as a carpenter during the off-season.
During the obligatory backpacking trip in Australia, August began to think about what he would do next and came to the conclusion that it was probably time to go back to school.
– When I worked practically, I learned that "this works" but I felt that I wanted to know why it works and how I could improve it.
What felt obvious was that he would study to be some kind of engineer. But which one? In order to be eligible for the engineering programs, August began by studying a technical basic year at Karlstad University.
– During that year, it emerged that I wanted to study for a master's degree in engineering with a focus on engineering physics, he explains.
To Norrland on profit and loss
Studying in Karlstad had been fun, but after graduation, August felt that he wanted to go north. Partly to see something else but also to have more snow-safe winters. August's father, who also has a Master of Science, advised him to apply for Optimisation.
– Dad had worked together with Optimation on projects. He knew my background and that I like to work practically but also to model and simulate. He therefore thought it would be a good match, August explains.
Optimation's first and largest office is located in Luleå and for August there was nothing to wait for. He packed up his life and moved up to northern Norrland for profit and loss.
– I called and booked a meeting with Tomas Eriksson who was CEO then and Peter Lingman. The meeting felt very positive and I got an even better picture of the company.
For slightly different reasons, the meeting did not result in a job at the time. August instead worked at a few other companies and moved down to Östersund after about six months. But even there he would not be particularly long-lasting.
– At the beginning of 2021, I saw that Optimation was looking for people and therefore heard from me again. I was offered a job and had to choose whether I wanted to work from Luleå or Sundsvall. Sundsvall felt like it was okay – still snow-safe winters but a little closer to the family, he reasons.
Mulle Meck builds cars
It has now been almost a year since the move to Sundsvall and August has started to make himself at home in the city and come into the job.
– I feel very well. These are fun tasks if you like to simulate and figure out the days. Right now I'm doing a process simulator – a physics model of a real factory that should behave as similarly as possible.
The program August works in has lots of different components that he can put together with others to simulate the process in the factory.
– It's a bit like the computer game Mulle Meck builds cars. Sometimes when you sit and work you can almost hear Lennart Jähkel's voice say "mojänger and molijoxer, mackapärer and megafixer". Or when it goes wrong, "no that grunt doesn't fit there", he laughs.
Of course, mechanization and construction still have a big place in his life.
– I like the way to socialize, to build a deck or screw in a car with a friend. Now that I live in an apartment, I'm a little tied up and can not fix as much as I would like. But the hope is to own a small house within a year or so where I have room to do things.